Welcome Ira Marathe, MD, FACP
I am excited to announce that Dr. Ira Marathe, a highly respected internal medicine physician with over 23 years of clinical experience, has joined my concierge medical practice.   Dr. Marathe is dedicated to providing compassionate, thoughtful care.  The Virginia Chapter of the American College of Physicians has presented Dr. Marathe with the Outpatient Internal Medicine Teaching Award for 2020.  In 2018, Dr. Marathe was awarded Ambulatory Preceptor of the Year by the Inova Internal Medicine Residency Program. She is a member of the Obesity Medicine Association and Board Certified, American Board of Obesity Medicine.
To enroll in Dr. Marathe's practice, please click HERE or call (571) 266-1170.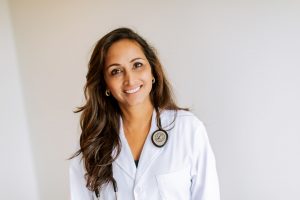 ---
Benefits Concierge Patients Receive at Lifetime Internal Medicine
24/7 direct communications
After hours, for urgent issues you can reach us by personal cell phones, emails or text messages.
Strong focus on preventive medicine and wellness
We conduct a thorough assessment of your health which serves as the basis of your personalized wellness plan.
Longer, unhurried appointments
Your Comprehensive Annual Health Assessment will be scheduled for 60 minutes and all other appointments for approximately 30 minutes.
Little or no waiting
Office visits start promptly.
Same-day appointments
You will be seen as early as the same day, for acute visits.
With rare exceptions you will always be seen by us
During our occasional absence from the office, Drs. Kaneriya and Marathe will cover for each other.
"Dr. Kaneriya has a tremendous ability and desire to listen, analyze, and pays attention to the emotional effects medical problems have on the patient. I appreciate a doctor that stays on top of the game and will not hesitate to suggest facilities and doctors who may be needed for further medical investigation for a particular diagnosis. More than one of my doctors have stated they have a great respect for Dr. Kaneriya and her medical knowledge."
– Verified Patient

---
"Cannot say enough good about Dr. Kaneriya. She is a true professional with a caring attitude. She listens to whatever symptoms I am experiencing and explains what she thinks, recommends and why. I have recommended her to my friends who are looking for a doctor."
– Linda
"My choice of Dr. Marathe turned out to be a great decision, one of my best. She is an exceptionally caring and competent physician who is totally dedicated to her patients."
– John C. Harvey, Jr,
Admiral, US Navy (Ret)
---
"She is very smart, caring, and an excellent doctor.She replaced our retired primary care doctor, and we were very lucky. She is fantastic."
The physicians at Lifetime Internal Medicine take a comprehensive and personalized approach to healthcare. As partners in our patient's well-being, we have always believed in an integrated total health approach. Our patient care plan includes wellness and preventive care in addition to continuous heath management. Our Concierge Medical Practice provides individuals the opportunity to take a more proactive approach to their healthcare. Through our program, patients who choose to join gain greater availability to services and benefits designed to enhance their overall wellness.