Soup and Stew Recipes for All Seasons
Soups and stews are often associated with the winter season or a meal you may have when recovering from an illness. However, soups can be extremely nutritious and filling all year round! In addition, they can be prepared in advance and frozen for quick and easy meals when in a pinch.
The team at Lifetime Internal Medicine put together soup and stew recipes we enjoy, and hope you will too!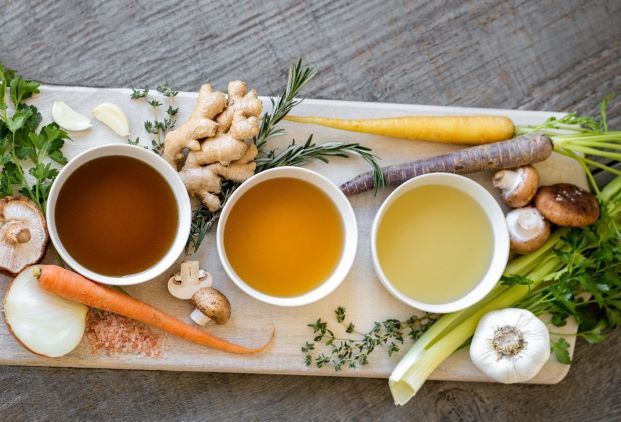 Recipe from Dr. Ira Marathe
Thai Soup
Ingredients:
2 cups low sodium chicken broth
1 14-oz. can light coconut milk
1 Tablespoons red curry paste, more or less to taste
2 Tablespoons fresh lime juice
1 Tablespoon fish sauce
1 Tablespoon lime zest, finely grated
2 Tablespoons fresh cilantro, chopped
Thinly sliced fresh hot red chili, for garnish (optional)
Directions:
In a medium saucepan, whisk together the chicken broth, coconut milk, and curry paste over medium-high heat until smooth and simmering, about 2 minutes.
Add the vegetables and simmer, stirring occasionally, until hot, about 3 minutes.
Off the heat, stir in the lime juice, fish sauce, lime zest, and ¼ tsp. salt.
Serve garnished with the cilantro and chilis.
Add any vegetables you like. I have added corn (raw or grilled), mushrooms, cherry tomatoes, and zucchini before.
This dish can be served hot or cold, making it a great soup to try out as we start experiencing warmer weather.

Recipe from Nicole Papanicolas, adapted from The Food Network
Butternut Squash and Chickpea Stew
Ingredients:
3 Tablespoons Extra Virgin Olive Oil
1 red onion
3 garlic cloves, thinly sliced
1 15-oz can diced tomatoes
1 ½ teaspoons ras el hanout* spice
1 cinnamon stick, broken in half
3 cups low sodium chicken broth
½ cup dried apricots chopped
1 small butternut squash peeled and cut into 1-inch pieces (you can purchase pre peeled and cut squash)
1 15-oz can chickpeas, drained and rinsed
1 5-oz container baby spinach
2 Tablespoons chopped fresh mint
2 Tablespoons chopped fresh flat leaf parsley
Juice of ½ lemon
Salt and pepper
*Note: Ras el hanout is an aromatic North African spice blend.
Directions:
Heat the oil in a medium Dutch oven over medium heat. Add the onion and garlic and cook, stirring occasionally, until soft and lightly browned, about 10 minutes.
Add the tomatoes with their juices, ras el hanout and cinnamon and cook until the tomato juices are thickened, about 3 minutes.
Add the broth, apricots, squash, and chickpeas and a pinch of salt and pepper. Bring to simmer and cook until the squash is tender, about 25 minutes.
Stir in the spinach and cook until wilted, about 3 minutes.
Remove from the heat and stir in the mint, parsley, and lemon juice. Remove cinnamon stick and adjust seasoning to taste.
Serve with hot cooked couscous or brown rice. Cooked chicken can also be added to the stew for additional protein.

Recipe from Dr. Shalini Kaneriya
Minestrone Soup
Ingredients:
1 tablespoon olive oil
1 medium onion, diced
3 cloves garlic, minced
3 carrots, peeled and sliced
2 celery stalks, sliced
1 15-oz can cannellini beans (drained and rinsed, 1 ½ cups)
1 28-oz can diced tomatoes in juice (do not drain)
2 cups butternut squash, diced
1 quart vegetable broth (plus more if needed)
2 teaspoons dried Italian herbs
4 cups kale, chopped
½ cup basil pesto
Directions:
Heat olive oil in a skillet over medium-high heat. Add the onion and sauté for 3-5 minutes.
Add garlic and cook for 30-60 seconds.
Transfer to a slow cooker along with the carrots, celery, beans, diced tomatoes and their juice, butternut squash, vegetable broth, and dried Italian herbs. Cook on LOW for 8-10 hours or HIGH for 4-5 hours.
Stir in the leafy greens and ¼ cup of the pesto. The residual heat will cook the greens without turning them mushy. If the soup is too thick, add more broth.
Note: Cooked pasta can be added to the soup, if desired. Adding uncooked pasta to the slow cooker can also be done, but it may become too mushy with the long cooking time.