What is Respiratory Syncytial Virus (RSV)?
Respiratory Syncytial Virus (RSV) is a virus that causes upper and lower respiratory lung infections. It may be spread through respiratory droplets from an infected person's cough or sneeze, and after touching a surface with the virus and then touching your face. It is most frequently diagnosed during the fall and winter seasons. Most commonly, it causes mild symptoms similar to other common cold viruses. However, infants, pregnant women, older adults, those with chronic underlying health conditions, weakened immune systems, and those who live in nursing homes or long-term care facilities, can develop serious illness and complications to include death.
What are symptoms of RSV infection?
Common symptoms include cough, sneezing, fever, runny nose, fatigue, and wheezing. Symptoms generally resolve within a few weeks, but individuals at higher risk for complications may have longer duration of symptoms and more severe symptoms like shortness of breath and low oxygen levels. It can cause bronchiolitis (inflammation of the small airways in the lung), and deeper lung infections, like pneumonia. RSV infection has the potential to exacerbate underlying health conditions like chronic lung or heart disease. Each year, RSV infection results in 60,000-160,000 hospitalizations in older patients and 6,000-10,000 deaths.
How do you treat RSV infection?
There is no specific treatment for adults with RSV infection, and supportive care with over-the- counter medications, rest, and fluids are sufficient for mild symptoms. Some patients with underlying chronic lung disease like chronic obstructive pulmonary disease (COPD) or asthma may need adjustments of their chronic medications to support their breathing. Patients with severe symptoms may require hospitalization. In the hospital, patients may receive IV fluids, supplemental oxygen, and/or need to be intubated with ventilation in the most severe cases.
How do you prevent RSV infection?
Wash hands often with soap and water for at least 20 seconds.
Avoid touching your face with unwashed hands.
Clean frequently touched surfaces.
Masking during peak season and in situations where the exposure risk may be high (indoor, crowded events)
In infants and young children up to 2 years of age, there are monoclonal antibody injections that can offer protection from serious infection.  The drug is given as a single injection approved for use during RSV season and unlike vaccines (which take time to build immunity) can offer immediate protection.
What is the RSV vaccine and should I get it?
This year, the U.S. Food and Drug Administration approved use of the respiratory syncytial virus (RSV) vaccine to prevent lower respiratory tract disease from RSV infection in individuals 60 years of age and older. The Centers for Disease Control (CDC) recommends that adults ages 60 and older receive a single dose of the vaccine. The RSV vaccine may be given at the same time as other vaccines.
The RSV vaccine works by using an inactivated protein to stimulate the immune system to recognize the actual RSV virus if or when an individual is exposed. This is similar technology to a traditional flu shot, and not the mRNA technology with some of the COVID-19 vaccines.
Current estimates are that the vaccine efficacy is 85-94% at preventing severe lower respiratory tract disease during the patient's first RSV season after vaccination. It appears that the efficacy declined just a little by the second season, and so may offer protection for at least 2 seasons.
Recommendations will be made in the future regarding how frequently patients should receive vaccination, and if there will be vaccines available for other age groups, pregnant women, and other adults with underlying conditions.
We at Lifetime Internal Medicine recommend that older adults (60 years and older) receive the RSV vaccine. It offers protection against this virus that can potentially have serious consequences and is a tool that we have to help protect some of our most vulnerable patients. If you have further questions or concerns about your individual risk and whether or not it is the best choice for you, please make sure to book an appointment with your primary care physician to discuss.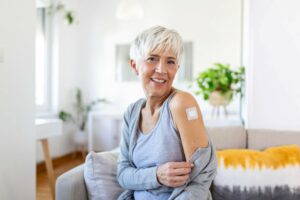 What are the risks of the RSV vaccine?
The side effects are similar to other vaccines and can include swelling, redness, and pain at the injection site. Other side effects include fatigue, feeling faint, fever, headache, muscle aches / pains, nausea, and diarrhea (similar to other vaccines.) According to the CDC, rare neurologic conditions like Guillain-Barre syndrome (GBS) are rarely reported after RSV vaccination. There is a very remote chance of serious allergic reactions or death with any vaccines.
Click here for more information on the RSV vaccine.
Where can I get the vaccine?
Walgreens announced that the RSV vaccine is available in pharmacies nationwide starting in early August. It is anticipated that the RSV vaccine will be available in CVS and other commercial pharmacies closer to the end of August. Currently the RSV vaccine is not covered by Medicare Part A or B.  It is covered by Medicare Part D which means that it is preferred to be given at a pharmacy. The out-of-pocket cost can be approximately $330, so we recommend that you check ahead of time with your insurance to see if it is covered with your plan and to know approximate costs. Lifetime Internal Medicine is considering ordering the RSV vaccine for our patients, but at this current time, we recommend you obtain the vaccine at your local pharmacy.
For more information on RSV, check out these resources: